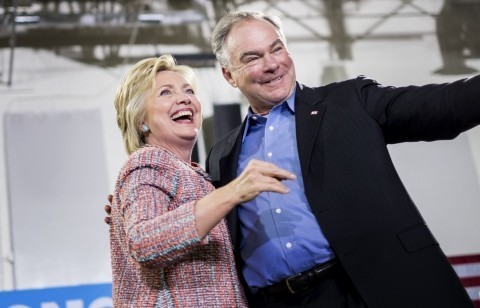 July 27, 2016
By Andrea Dew Steele
President and Founder, Emerge America 
Last week, Democratic nominee Hillary Clinton announced Virginia Senator Tim Kaine as her running mate. Many Democrats are happy with Kaine, a respected bilingual Senator with an impressive resume. Others, who were hoping for a more diverse pick, are less enthused.
In an election cycle where names like Cory Booker, Elizabeth Warren and Julian Castro were floated around as potential running mates, I'll be the first to admit that I can understand why some Democrats might feel disappointed that Hillary Clinton chose a white man. After all, wouldn't it be great to have the first female President serving alongside the first Vice President of color? Or, just as exciting, how about an all-female ticket?
But to the progressives who are lamenting the fact that Clinton chose Tim Kaine to be her running mate, I have one thing to say: just like that Meghan Trainor song, "It's all about the bench." Before being elected senator, Tim Kaine was first a city councilor, mayor, lieutenant governor and governor. No person of color has ever held all of these offices. When women and people of color continue to be so underrepresented in the political process, fewer of them are able to rise to the offices that typically precede a vice presidency.
Don't get me wrong — there are prominent women and people of color who are incredibly qualified and would serve well as a Vice President to Hillary Clinton. One of them is someone I'm a huge fan of, Cory Booker, who generated some early buzz. But, like Elizabeth Warren, he's a Democratic senator in in a state with a Republican governor. Choosing one of them would have meant losing a key seat in the Senate, which we really can't afford. Cory Booker is the only African American Democratic senator. The only one. And, right now, there's not a single person of color serving as a Democratic governor in the United States.
I wholeheartedly agree that it's important to have individuals on the ticket that represent a demographic other than white men, who make up only 31 percent of the population but hold 65 percent of elected offices in the U.S. However, if we want major party nominees to pick running mates from underrepresented groups, then the first and best thing we can do as voters is to give them a larger pool of accomplished and diverse leaders to choose from.
This means that there is some good news for the progressives who aren't wild about the addition of a white man to the ticket: you can take actions to help solve the bigger issue. Volunteer. Vote. Donate. Support an organization like mine, Emerge America, which recruits and trains Democratic women to run for office. Or Higher Heights for America, which seeks to expand the Black women's leadership pipeline; New American Leaders Project, which trains first and second generation Americans to run for office; or Running Start, which introduces young women to the importance of political leadership. Even consider running for office yourself. Do everything you can with the resources and skills at your disposal to help elect more people of color and women to offices at every level of government.
I challenge progressives to think long-term and take action. It's not going to be a quick fix, but true progress rarely is. By working to elect more leaders from underrepresented groups, we can help change the face of leadership – and the pool of potential VP candidates will look different four or eight or 16 years from now.
So tonight, let's hear what Senator Kaine has to say. And tomorrow, let's start working to make sure that the next time we have the opportunity to nominate a new Democratic candidate, we've got more women and people of color with credentials like his to choose from.