The 10 Most Successful Black Businesswomen Making a Difference in 2023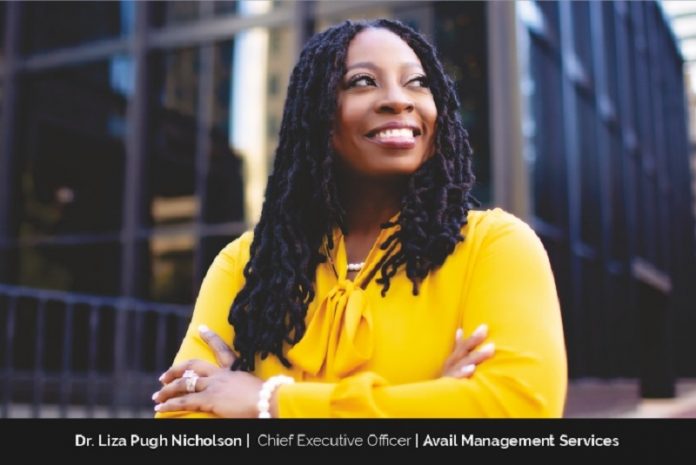 Growing up in southwest Alabama, Dr. Liza Pugh Nicholson, the owner and Chief Executive Officer of Avail Management Services, saw how difficult it was for some communities to acquire basic health services, so she looked for a way to make a difference in both rural and urban regions.
"Quality of care means very little without availability of care…"
Drawing inspiration from her childhood while growing up in a rural area with limited resources, Dr. Nicholson founded Avail Management Services as a way to advance healthcare access, quality, efficiency, and equity in healthcare service delivery throughout the United States and globally.
She decided that she wanted to make a difference in both rural and metropolitan places across the nation, and considers herself blessed to have had the opportunity to develop a platform through Avail Management Services which helps improve health outcomes.
Dr. Nicholson plans to continue expanding the company as it gains recognition for its dependable and trustworthy services on a global scale, while also managing consultancy projects for several community-based organizations as a continuation of her work and dedication to public health.
"Public health is a powerful tool to level the playing field, to bend the arc of our country away from distrust and disparities and back towards equity and justice."— Leana S. Wen
An entrepreneurial vision to improve healthcare access, quality, and equity.
A skilled healthcare executive and public health practitioner, Dr. Nicholson has an impressive educational background. She graduated from the University of West Alabama with a Bachelor of Science in psychology, a Master of Science in health care management from Troy University, and a Doctor of Public Health in health management and policy from Samford University.
Additionally certified in leadership and practice facilitation, she has worked for many years as a community resource specialist. Dr. Nicholson was always aware of the pivotal and crucial role that health professionals play in enhancing the population's access to, and equity in, high-quality healthcare.
So, in 2019, she established Avail Management Services, which is headquartered in Tuscaloosa, Alabama, but offers project management and healthcare management consulting services to hospitals, primary care centers, and other healthcare organizations to improve healthcare access, quality, and equity worldwide.
Avail Management Services is committed to assisting doctors and organizations that offer crucial services aimed at improving people's health, warding against sickness, and providing people with access to medical care. It also provides administrative assistance, care coordination, health education, facilitation services, training in diversity, equity, and inclusion, as well as mobile professional notarial services.
An increasing number of healthcare organizations and leaders have begun to rely on Avail's experience in sustainable strategic solutions, ongoing healthcare revenue cycle management, and enhanced health outcomes.
Through the Avail Management Services platform, Dr. Nicholson plans to continue expanding her business's global presence as the go-to healthcare management expert exemplifying superior patient care, ongoing healthcare quality, and comprehensive, trustworthy, and equitable healthcare management services.
"Our vision is to be one of the leading innovative healthcare management organizations trusted for the success of enhancing health outcomes through efficiency and equity, and valued for focusing on and responding to the needs of patients and organizations," says Dr. Nicholson.
"For he who has health has hope; and he who has hope, has everything." — Owen Arthur
Healthcare management consulting services that transform healthcare service delivery
Healthcare businesses benefit from the outside viewpoint that management consultants offer on numerous preventive measures. However, the hiring of full-time personnel is a big investment for healthcare companies, as they spend a lot of money on recruiting, training, salaries, and benefits.
Avail Management Services was founded on the idea of transforming healthcare service delivery by providing healthcare management consulting services across the world. Its team of expert consultants understand that data has an important story to tell, specifically in healthcare, hence the adage "you can not manage what you can not measure" proves true when defining and tracking data that helps transform organizations for success.
Avail Management Services provides an array of services to meet the needs of individuals, families, and organizations. Like its founder, the company has quickly demonstrated that it has a talent for successfully implementing programs and managing healthcare systems and revenue cycles.
The experts at Avail collaborate closely with leadership teams to raise the general standard of healthcare service delivery by offering cutting-edge healthcare consulting services, such as thorough cost management planning and long-lasting adjustments to clinical strategy.
The Avail team enthusiastically transforms and future-proofs everything, from these organizations' best practices to the management of clinical workflows, including hospitals, primary care organizations, and other institutions connected to the healthcare industry.
As Avail partners with healthcare organizations, they undergo extraordinary changes, especially in functional areas like program management, population health, care coordination, administrative support, and practice facilitation.
Avail's healthcare management services provides virtual and onsite guidance to organizations that deliver health services by planning and coordinating clinical and non-clinical activities within hospitals, healthcare systems, academic institutions, health networks, home care, and community health organizations.
Avail also takes great pride in customer service and ensuring that its clients – whether an individual from a rural community or a large health system with over 150 hospitals in its network – will get customized services with the same amount of attention, efficiency, and integrity.
Quality, Efficiency, and Equity are essential parts of the Avail Management Services equation. Although quality performance is often measured cumulatively, the goal of quality is to ensure the right care is provided to the right patient every time, which requires equitable care.
Avail Management continuously uses client and industry needs to drive future services, and recently announced the addition of a grant writing component to its solutions for 2023, which plans to assist small non-profit organizations with competitively applying, receiving, and managing grant funding to best serve their clients and have a lasting impact on communities.
"An individual has not started living until they can rise above the narrow confines of their individualistic concerns to the broader concerns of all humanity."― Dr. Martin Luther King Jr.
A strong focus on social determinants of health (SDOHs)
Dr. Nicholson is aware of how difficult it is for some communities to have access to essential, culturally-appropriate health treatments.
She started the company to improve healthcare overall and has worked tirelessly to make a difference in both rural and urban communities to lower the rate of mortality amenable to healthcare – a statistic that measures deaths from specific causes before age 75 that are potentially avoidable with timely and effective healthcare.
Avail Management Services strongly believes that value-based care models offer opportunities for organizations to reduce health inequities and address social determinants of health (SDOHs) – which consist of various social, environmental, educational, and economic factors influencing health access and quality.
Avail remains cognizant of SDOHs at every stage, and as acknowledgment and study into SDOHs evolved over the last decade, it became a core strategic priority for its consultants, healthcare providers, payers, and the government health organizations with which it works.
Avail's team designs and implements programs and services that effectively improve population health and reduce the cost of caring for its nation's most vulnerable and high-risk populations.
"Of all the forms of inequality, injustice in health care is the most shocking and inhumane."- Dr. Martin Luther King Jr.
As evidenced by Avail Management Services' recent selection as one of Wealth and Finance International's 2022 Best Management Consultancy Award winners, which highlights the true value of consulting to both private and public sectors around the world, the organization is unceasingly committed to improving healthcare quality while reducing cost, enhancing patient safety, and staff satisfaction.
"What counts in life is not the mere fact that we have lived. It is what difference we have made to the lives of others that will determine the significance of the life we lead." – Nelson Mandela
Deeply invested in the community and advocacy
With more than 15 years of experience in the healthcare field, and a track record of successfully leading dynamic teams in program implementation, healthcare administration, and revenue cycle management, Dr. Nicholson has worked with several leading healthcare organizations.
In addition to her expertise and dedication to healthcare management and public health, Dr. Nicholson is also the driving force behind the AMS Internship Program, an internship opportunity offered by Avail Management Services, that enables third-year college students to gain practical experience in the fields of healthcare administration and public health-related work to broaden their knowledge and prepare them for success in the healthcare field.
Dr. Nicholson is also deeply committed to her community and activism and acts as a advocate for health and human rights with an emphasis on women's empowerment and the reduction in morbidity and mortality of cardiovascular disease and substance use disorders.
Deeply invested in advocacy, she is a founding chapter director and mentor for the Tuscaloosa Younger Women's Task Force, a graduate of Leadership Tuscaloosa, Emerge Alabama, and a 2022 recipient of the S.H.A.R.P Award by Empowering Women Locally.
In recognition of her achievements, Dr. Nicholson was named among the 75 Black Health Care Leaders to Know in 2022 by Becker's Hospital Review, within the Forty Under 40 List in Rural Leader Magazine in 2021, and as a Tuscaloosa News' 40 Under Forty Business Professional in 2019. She was nominated for the 2022 International Association of Women Inspirational Influencer Award and recently inducted into the prestigious Marquis Who's Who in America biographical registry for Excellence in Healthcare.
Among her many accomplishments, Dr. Nicholson is credited with creating the Cultured Heart Connection, an online health education platform that encourages culturally appropriate cardiovascular health education for minority women. Through culturally sensitive, fact-based teaching, the platform offers prevention and management education to raise awareness, advance knowledge, and hopefully save lives.
Dr. Nicholson is also the visionary behind All Rize, a digital platform promoting positive experiences in black and brown culture and providing scholarships for first-generation college students in Alabama.
She actively participates in several industry-related associations, including the American College of Healthcare Executives, the American Public Health Association, the Doctor of Public Health Coalition, and the Society for Health Communication, to further her professional interests.
Dr. Nicholson also continues to be a member of several other professional associations, including Alabama Women in Business and the National Notary Association, while also a member of several service and social organizations including Alpha Kappa Alpha Sorority, Inc., Jack and Jill of America Inc., and For(bes) The Culture. She currently serves on the board of directors for the Recovery Organization of Support Specialists and has also previously served on the boards of the Birmingham Chapter of the Case Management Society of America and Arts'n Autism.
Dr. Nicholson serves as a scholarship reviewer for the American Public Health Association Kaiser Permanente Community Health Leadership program and has contributed as a Practice Facilitator, thought leader and co-author of articles in the Journal of the American Board of Family Medicine, PLOS ONE, and Alabama Living Magazine. Her most recent publication is set for release in mid-2023.
"When you are willing to make sacrifices for a great cause, you will never be alone."— Coretta Scott King
Developing a safe, judgment-free environment with a culture of appreciation
As the Chief Executive Officer of Avail Management Services, Dr. Nicholson's major role and responsibilities incorporate planning, direction, and coordination at the highest level of operations management with the assistance of other executive team members.
"It is my responsibility to ensure that every aspect of how the company performs is efficient, while developing and maintaining standards for excellence in operations, and implementing policies and procedures that align with the strategic plan to achieve economic growth and stability," she maintains.
Dr. Nicholson notes that Avail Management Services has developed a judgment-free environment for employees and contractors to communicate their thoughts and ideas on projects. We honor different insights which enhance feelings of inclusion, diversity of thought and approach enabling better outcomes.
"As a company that is driven by innovation, we often review strategies as a team and I believe in being intentional about praising team members and acknowledging their work with gratitude – a simple 'thank you' or 'well done' means a lot when developing a culture of appreciation," she notes.
Dr. Nicholson remarks that they have a culture that supports flexibiity, continued education, family, and self-care as priorities because she truly believes that when you respect your team and they feel trusted, valued, and empowered, then they will ensure that your clients receive the same treatment and are able to bring their best to work.
She explains that, by being more strategic and selective in business development, they are able to grow as a company under the principle of sustainable long-term success, so every opportunity they encounter is reviewed against the long-term goals while aligning with their mission and values.
Dr. Nicholson observes that a large part of her role is looking for ways to optimize the organization's ability to assist in delivering high-quality care to patients efficiently and cost-effectively. This takes high-level planning to ensure that they are communicating clearly with client organization decision-makers and stakeholders for sustainable outcomes that will continuously benefit patients and staff.
"Good time management, flexibility, and the ability to set priorities are vital skills, and I look for these skills and qualities in consultants that come on board because we often work with strict deadlines, unexpected barriers, and demanding programs and projects. But the ability to stay calm and focused to keep programs moving towards success is fundamental to the work we do," she insists.
"You're not obligated to win. You're obligated to keep trying to do the best you can every day." – Marian Wright Edelman
Success is walking in one's purpose in every aspect of life.
Before starting Avail Management Services, Dr. Nicholson worked in the healthcare space for about 12 years in different capacities and she's exceptionally proud of the success that they have had as a company in such a short time, as well as numerous other achievements.
"However, I consider my greatest achievements to be my two daughters as they have helped shape my vision and fuel the fire behind my passion for serving. I get to help create an environment and path that gives them the freedom to dream big, stand up for what is right, and to go after their goals with confidence. No other achievement could ever supersede this," she declares.
Dr. Nicholson believes that success can vary depending on who you are and what stage of life you are in. "I have never allowed those successes or failures to determine my value or affect my next endeavor. Dr. Nicholson notes that an intentional and graceful balance between her work and family is what allows her to thrive.
"I am dedicated to ensuring the success of the company and I also place great value on my family and the time I get to spend with them. Currently, for me, success is the content feeling that I am walking in my purpose in every aspect of my life, personally and professionally. I have set and accomplished goals that I envisioned more than five years ago for myself, my family, and my company, and for me, right now, this is a success!" she states.
Dr. Nicholson also points out that having a reliable team at work allows her to take devoted time with family and have the flexibility to be present to support her husband and two daughters as needed. "My family allows me to be the best version of me and I owe them the same," she insists.
"Hope and truth are connected. Hope is not naïveté. It is bearing witness to truth, STILL believing in better and yielding the energy to contribute to better."— Bernice King
Live on purpose and leave this world better than you found it
Dr. Nicholson's parting message to Black women who aspire to go into business is as follows:
Be confident in yourself and your abilities. Never be afraid to be vocal about your value and always remain tenacious when defending what is fair, even when you are in rooms where no one may look like you.
Surround yourself with people who pray for you and believe in you, people who will hold you accountable for the greatness within you, and people who will speak positively about you and build you up even in your absence.
Continually find opportunities to encourage people and lift them up. I believe that true leadership involves serving and positioning yourself to help those who need it the most. Being able to influence and positively impact lives aligns with my life's purpose. Live on purpose and never underestimate the power of your dreams. Focus not on success, but on significance. That is the legacy I want to leave for my two daughters, my nieces, and all other girls and women who aspire to leave this world a little better than they found it.